At the time of writing this, I've spent 20 years in my career in IT and general technology. You could certainly say I've had a successful career to date; with plenty of ups and downs, I've capitalised on many opportunities in my career. I've succeeded and failed in many ways, and used those experiences to progress and constantly grow. The numbers truly speak for themselves if you have the same mentality around career growth and constantly learning.
I started my career in IT straight out of high school (year 12). I decided to get my degree in Information Technology and studied part time throughout my career, finishing some 11 years later! Along the way, I obtained a lot of on the job training, including industry certifications (eg. Microsoft, Cisco, etc). I also started 2x MBA courses and pulled out of both.
Job Title
Company
Rate/Salary
Time in Role
Education Notes
IT Technician
Systems Administrator
ASX listed medical company
$10/hour to $15/hour ($20,000-30,000 +super)
$40,000 to $50,000
4 years
High school
Started University
2x Microsoft certifications
Systems Administrator
ISP
$55,000
1 year
1x Microsoft certification
IT Support Technician
IT Support company
$60,000
1 year
Server & Storage Technician
Government contractor
$57/hour inc super (~$89,000 + super)
6 months
Systems Engineer
Government contractor
$55/hour inc super (~$98,000 + super)
6 months
Solution Designer
Government contractor
$71/hour inc super (~$127,000 + super)
6 months
Consultant
Senior Consultant
Manager
Consulting company
$90,000 + super + bonuses
$105,000 + super + bonuses
$132,000 + super + bonuses
4 years
~10+ Microsoft certifications
Internal training programs
Completed Bachelors degree
Started Masters of Business Administration (MBA)
Support Manager
Software company
$125,000 + super
1 years
Pulled out of MBA
Infrastructure Architect
Software consultancy
$135,000 + super + bonuses
3 years
3x Microsoft certifications
Security certification(s)
Manager
BIG4 consulting
$135,000 + super
1 years
Security certification(s)
Internal training programs
Systems Analyst
Insurance company
$858/day inc super (~$202,000 + super)
6 months
Solutions Architect
Consulting company
$180,000 + super
18 months
Security certification(s)
Internal training programs
Chief Operations/Technology Officer
ISP
$235,000 + super + bonuses
1 year
Cisco certifications
+ other security certifications
The below graph shows my salary over time. While I generally moved up with most roles, I occasionally took "backward steps" in salary to chase new opportunities and job security.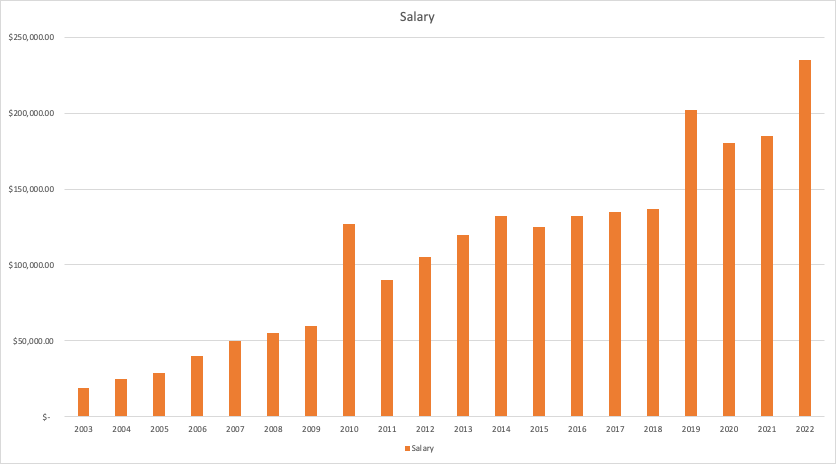 All in all:
I have never been fired
I have taken one redundancy where the role was re-instated to me after another staff member left
I have only finished two contract roles and one permanent role without a subsequent role to go to

Both contract roles finished in market down turns; the GFC and COVID-19
I left the permanent role with the ambition to start my own company. I had a large payout of annual leave which effectively sustained 3 months of travel and recreation instead.